Club Handicap 10 Miles
The race has a proud history, having been held since our club was formed in 1981.  
The course is entirely on paved paths but please be aware of the following:
There may be pedestrians and recreational cyclists on the course – particularly in Pontcanna Fields, Bute Park and on the pavements – please take care and be courteous
There are speed bumps in Pontcanna Fields
The route passes by the river – run on the other side of the path where possible
There is a water station at 3.2 miles and 6.8 miles – Please dispose of bottles responsibly
Route
Start: Near the riding school on the Spine Road in Pontcanna fields. (see map below)
Turn left along the path towards Blackweir footbridge and then right onto the river path
At the Millennium footbridge turn left and go over the bridge
After the bridge go straight on towards the College of Music and Drama (obey marshal's directions) and follow this path to the crossroads on the parkrun then go straight on and run past the playing fields
At Blackweir Bridge go straight on to the parkrun start/finish area – water station is here.
Go under the Western Avenue Bridge please keep left and follow the path to the road bridge in Llandaff.
Pass under the bridge please keep left.
Enter Hailey Park and follow the path round to the car park by the changing rooms. Turn right onto the path.
When you get back to the river path bear left and retrace the outward route.
At the two bridges please keep left again.
The finish is at the same point as the start.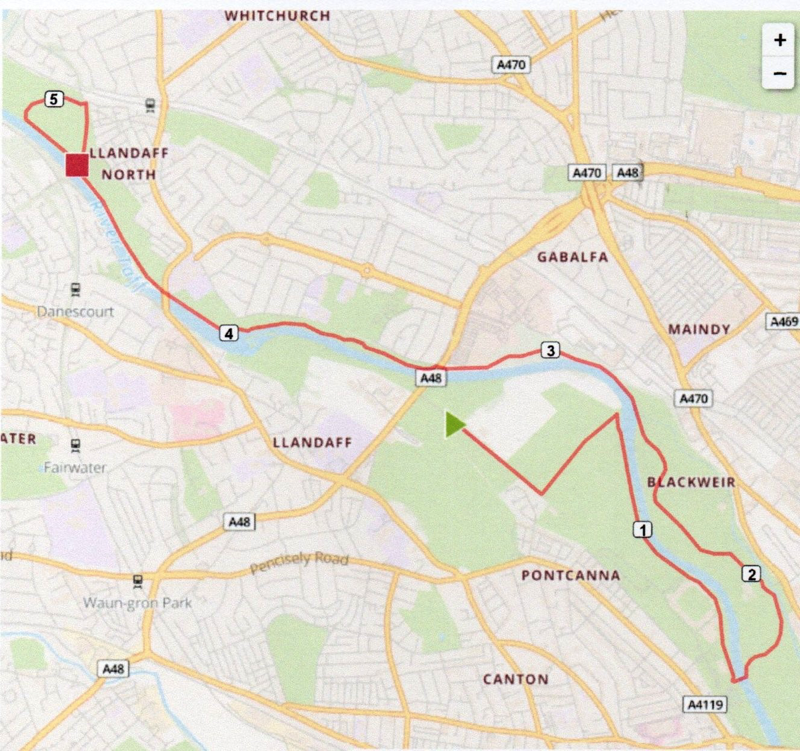 2020 Handicap 10 mile route map
Please note that there is another event in Bute Park on the same morning – this should not impact on our event.
Please be courteous to all other runners and follow the instructions of the correct marshals!
Event Records
CHANGE THE LINKS TO THE NEW WEBSITE