Jeff Aston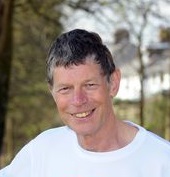 Name: Jeffrey Aston 
Place of birth: Walsall Wood, Staffordshire
Favourite running distance: In the 1980s it had to be 10 miles - this is a classic distance and there was a 10 mile race every other week at least
Nowadays, I don't consider my running as more than survival and enjoyment at finishing!
Favourite race/ event: It has to be the London Marathon 1983 - first (and only) time under 2:30. However, I really enjoy the way that competitors in the Handicap 10 all come together over the last 2 miles or so - or maybe it is down to the handicapping!
What do you bring to the committee:
a. Experience - I have been on every Les Croupiers Club Committee since the club was formed!
b. Objectivity.
c. An interest in statistics and the history of the club.
Interesting fact: In 1981 the Mentholatum company that manufactured 'Deep Heat' ran an advert in the London Marathon program, saying 'How to finish 765th in the London Marathon'. When I pointed out that I had done that they sent me a large box of Deep Heat!
Interesting fact from the responses so far:
Most of the male members of the committee were born in England.
Walsall Wood (J Aston) is about a half-marathon from Warley (J Bruce).